Welcome to the 7 Seeds Wiki!Edit

This wiki covers Tamura Yumi's manga 7 Seeds.

The copyright of all the 7 Seeds pictures and contents on this wiki belong to Tamura Yumi-sama and her licensees. All images are for non-profit personal and educational use only!
Disclaimer: This page has various links redirecting to other pages. Although their content has been examined carefully, 7 Seeds Wiki doesn't take any responsibility for external links. The responsibility for the external links and the contents of the sites the links lead to, lies fully with the owners of those sites.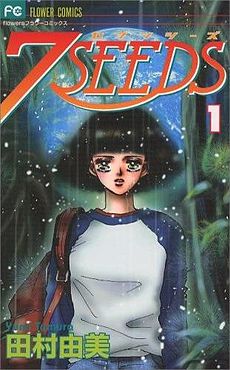 7 Seeds (7SEEDS セブンシーズ / Sebun Shīzu) is a Japanese science fiction manga series written and illustrated by Yumi Tamura. It has been published by Shogakukan since 2001, first in the magazine Betsucomi, then in Flowers.

The series is set in a post-apocalyptic future. Many meteorites several kilometres in diameter have collided with the earth, leading to the total annihilation of mankind and all other living organisms.
However, this devastating outcome had already been predicted by reowned scientists around the world, and so the Japanese government forumlated several plans to counter this worst-case scenarios, such as 'Project 7 Seeds'. This project involved the selection and cyrogenic preservation of five groups of seven young people, chosen according to their health levels and abilities. 
Awoken from their cryogenic sleep many years later, the young men and women find themselves amidst a hostile environment bare of any human life. Completely alone and bereft over the loss of their loved ones, they are forced to face the new world and learn how to persist against the greatest adversities.
They have to challenge the new world now and prove that humanity is truly worth saving.
In 2007, the series won the Shogakukan Manga Award for shōjo manga.
Read more at 7 Seeds.


Target Audience
Edit
The manga is mainly aimed at young women, however it is appropriate for young people of both genders, the majority of which are aged 16 to 30 years.
In Japan though, the series is read by all ages, in same cases children as young as 12 years of age and adults as old as 70. 
7 Seeds is especially favored by readers who are fascinated by...
Notable pages
Edit
BREAKING NEWSEdit


Let's Sow 7 Seeds All Over The World NOW!!!
Hi everyone - it's finally time to get started with our email campaign!
In order to persuade the US publishing company VIZ Media to publish '7 Seeds' in English language we'll have to send either emails to VIZ or post on their Facebook page!
Please lend us your support – only with your help, we can convince VIZ that there are so many '7 Seeds' fans out there that it will be profitable to start this project.


We wrote mail letters to Tamura-sama, to Shogakukan Inc. and to VIZ Media to announce the start of our campaign to them. The success of the next step completely depends on you.
Please, send either an email to VIZ Media (if you can discover their email address – for some reason, I can't access their website) or post a comment claiming you want '7 Seeds' in English language on their Facebook page: https://www.facebook.com/OfficialVIZMedia
If you don't have that much time: I already inserted the letter to VIZ Media in their Facebook timeline. You just have to click on the 'Like' button there to show your support for 7 Seeds in English.


To make our emails easily recognizable for the publisher, I ask everyone to use the same mail title: "Let's Sow 7 Seeds All Over The World NOW!!!"
Then you can just write your own thoughts and wishes to the publisher. You personally say why you love 7 Seeds so much and why you want it to be published in English language. A personal message would certainly leave an even bigger impact additionally to the 'official' mail letters.
For those who don't have that much time, just copy the letter to the publisher below and send this with your personal signature.


It would also help if you would vote for '7 Seeds' in our poll, if you haven't done so yet. The details for that are in the message below.
Thank you very much in advance for your help!
Yours sincerely,
Ysaye

Mail draft:

Let's Sow 7 Seeds All Over The World NOW!!!
Dear sir or madam,
we are an international group of fans who completely fell for the great series '7 Seeds' by Yumi Tamura, published by the Japanese publisher Shogakukan. It is our most sincere wish that this awesome manga may be also published in English language so that those who can't read Japanese will also be able to enjoy this wonderful story.
We have started an online support movement to gather more people interested in buying the series in English. It turned out to be very successful: 254 fans from all around the world voiced their willingness to buy the manga should it be published in English language. I'm sure there will be even more people interested in '7 Seeds' once it's being published in English – it's truly a fascinating and addicting manga. You will find the poll results here: http://ysaye.questionform.com/reswidget/Sow-7-Seeds-to-the-entire-world-NOW%21%21%21%21%21%21%21%21%21%21%21
Thus, we wrote letters to you, to Shogakukan Inc. and to Yumi Tamura-sama in the deep hope that you may be willing to allow a bigger audience all over the world to enjoy the best manga ever, '7 Seeds'.
We also sincerely beg you that - should you decide to take up this project - the current high quality of '7 Seeds' may be kept up (i.e. good quality paper and printing, using the wonderful cover page pictures for your covers as well, properly cleaning and re-inserting all the soundwords and little side comments, inserting translator's notes in order to make the readers understand specific Japanese customs/expressions and plays on words etc...). All those little details play a very important part in making 7 Seeds such an enchanting series, so they absolutely shouldn't be neglected.
In order to introduce '7 Seeds' to you and to a larger group of interested journalists and manga fans, we also wrote a Wikia article about '7 Seeds'. You will find the link here: http://7-seeds.wikia.com/wiki/7_Seeds_Wiki
During the next few weeks, we will also begin our 7 Seeds email campaign: the enthusiastic 7 Seeds fans from all over the world will personally write emails to you or post on your Facebook page in order to beg you for including 7 Seeds in your high-quality manga program!
In the deep hope that the '7 Seeds' will be sown all around the world soon...
Yours sincerely,
the 7 Seeds fans



Hi, everyone!!!

Currently a poll is running to gather enough support for persuading a publisher to license 7 Seeds in English language!  Please support it as well; it can help convince the potential publishers about 7 Seeds' large fanbase!

You will find the poll here.
The poll results can be found here.

And here's the 7 Seeds fans' facebook address:
http://www.facebook.com/7seeds.tamurayumi


Latest activity
Edit
User:Cheeseskates
edited by Cheeseskates

| | |
| --- | --- |
| Summary: | Creating user page |

Manga Translations
created by A FANDOM user

| | |
| --- | --- |
| | Is the manga still being translated? I binge read the comic and it ended at ch 153.  If it is still being updated, what's the upd...  |
New pages
Edit
New pages