Animals

[

]

As she did in her other previous works already, Yumi Tamura placed strong emphasis on the deep connection of the protagonists with the nature surrounding them by having them interact with various animals who often play an important role in supporting the characters.


!!! SPOILER ALERT - This page may contain various spoilers.
Those who want to keep on being surprised by the flow of the story are recommended not to read this article!
Aramaki's pack

[

]

Fubuki and Mitsuru-san each paired up with other dogs from Hokkaido, giving birth to many puppies. The whole dog population consists of almost hundred dogs by now. They're scattered in several smaller packs all over Honshu. Their appearances vary a lot.
Still deeply attached to Aramaki although they don't live with him all the time anymore, they come when he calls for them and do various tasks for him like hunting, guarding duty, trailing tracks or searching for water and food sources. Their help was a great support for Aramaki and enabled him to survive in this dangerous new world all alone for 15 years.
Sadly, most of the dogs except for Kuroda and the puppies died during a forest fire, causing great grief towards Aramaki.


Adult dogs

[

]
Juvenile dogs

[

]
Glove
Mitt
Base
Mound
Manny
Puppy
Ace
Puppies

[

]
Summer B's animals

[

]
Team Spring's animals

[

]
Team Autumn's animals

[

]
Gengorou's animals

[

]

Gengorou took care of many different animal species since he was part of the animal class during Summer A's time of education. He loved them deeply and built up a strong relationship with them - especially to Tango and Aoba - but during Summer A's test he had to kill most of them with his own hands because they became dangerous to his comrades. It broke his heart.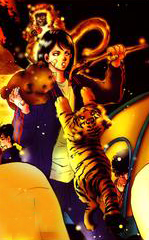 Other Animals

[

]