Aota Arashi (青田 嵐)Edit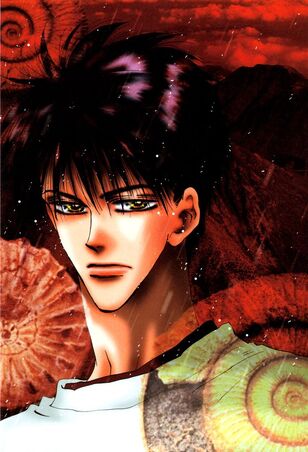 "I want to trust people

because we're in a world like this."
- Aota Arashi -

The boyfriend of Hana from Team Spring, aged 17. He acts as Natsu's protector and is generally depicted as a compassionate and considerate person, so as long as nobody threatens Hana.
Due to travelling as a party of three for such a long time, Arashi is particularly close to Semimaru and Natsu. Whenever he gets into trouble, he thinks of them (and Hana) first.
He was on the school swim team with Hana, so Arashi's body is very strong and athletic. However despite coming across as strong, responsible and leader-like, Arashi has a deathly fear of insects.


Arashi means tempest and aota means green paddy.

Voiced by Kōsuke Toriumi.



Learn More About This Character
The text above is just a short description to protect new 7 Seeds readers from getting spoilered if they prefer to let themselves be surprised alongside the flow of the story.

If you want to learn more about this character, click here.

You are most welcome to add your own information about this person, too!


Return to Team Summer B
Return to Characters