This page is a comprehensive List of Characters that appear in 7SEEDS series.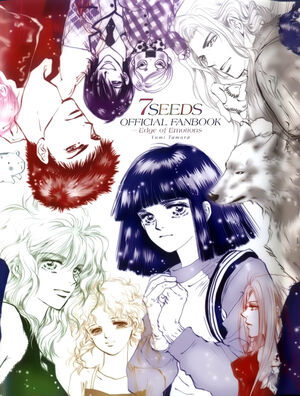 Information
[
]
Every member of a group has a name containing a kigo, a poetic seasonal word, related to the group name - for example, all of the members of the Spring group have names traditionally associated with spring. Each group consists of seven members plus a guide who has foreknowledge of the situation.
The five groups are listed in order of appearance in the series, however this differs from the order in which they were revived from cryonic preservation in the series' chronology.
There are also several side characters that appear throughout the series.
Candidates for Team Summer A
[
]
Inhabitants of Ryugu Shelter

[

]
Mitsuru-san

Derek

Albert

Randy

Ivan

Tino

Kuroda (Former)

Ball

Glove

Mitt

Base

Mound

Manny

Puppy

Ace

Diamond

, also known as Dai

Battery

, also known as Batsu
Team Summer B
[
]
Macadamia Nuts

, also known as Nuts

Peanuts

Carol

Moron Birds
Ice Turtles
Team Spring
[
]
Team Autumn
[
]
Other
[
]
Saber-Toothed Tiger
Ten-ten
White Piranha Bats
Water Nymphae