Samejima Fubuki (鮫島 吹雪)
[
]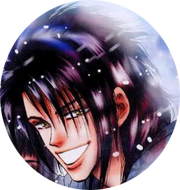 "Good luck, Taka...

Go forth and fight your match."
- Fubuki Samejima -

Another talented and well-known high-school baseball player who, like Takahiro, plays at Kōshien. He is described as the shortstop of the century.
Being a very strong-minded and self-confident character, he takes it on himself to protect Takahiro and Mitsuru from the perils of the New World.
But will he be really able to protect them from anything that's out there...?


Fubuki means snowstorm.

Voiced by Nobuyuki Hiyama.


Learn More About This Character
The text above is just a short description to protect new 7 Seeds readers from getting spoilered if they prefer to let themselves be surprised alongside the flow of the story.

If you want to learn more about this character, click here.

You are most welcome to add your own information about this person, too!


Return to Team Winter
Return to Characters