More about Hotaru

[

]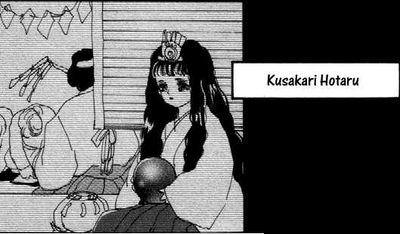 Appearance

[

]

Being still an only twelve-years-old girl, Hotaru is a very tiny girl with beautiful long, curly black hair and a cute doll-like face with big round black eyes.


Background and family

[

]

Hotaru is part of the branch of a very old family which specializes in spiritual matters. Sometimes, she would secretly switch shifts with her cousin Hibari when the temple was very busy.
Hotaru wishes to get along with Hibari, but her cousin dislikes her enormous talent and abilities - Hibari fears that Hotaru came to drive her away from her rightful place.


Personality

[

]

The young girl is always very friendly and easily interacts with everyone.


Special Characteristics

[

]
(hobbies, strengths and weaknesses, special skills…)

Her specialities are weather forecasts and fortune-telling out of hand palms. She can always accurately predict the weather and even knows about hidden past characteristics of those whose hands she can read. But sometimes, if she only can see one hand or the person in question has a very dark past, she starts crying and the palm-reading doesn't work.


Past

[

]
(before being frozen)

Apart from her working in the temple, not much is known about her past or her relationship with Hibari in the Old World.


Development throughout the story

[

]
(starting with the first appearance in the New World)

Hotaru's first appearance was during the fifth chapter "The First Day", when she, Matsuri and Chimaki almost were eaten by crocodiles. They were saved by the other Team Summer B members and travelled along with them to Kumamoto Castle.
Then, she stayed behind at Bungo Fuji together with Botan, Matsuri and Chimaki while the others left the group temporarily. But during a landslide she fell into a hole and was unable to move until the rest of Team Summer B returned to rescue them.
Afterwards, she continued travelling with her teammates until they came across the two renegades of Team Summer A. She was unable to read Ango's palm, but precisely foretold Ryou that he was harboring a secret which he would have to disclose unexpectedly.
During her team's attempt to stop the bombs on the ghost ship Fuji, Hotaru acted as the coordinator and maintained the speaking system.


Further information

[

]


Return to Hotaru Kusakuri
Return to Team Summer B
Return to Characters